with Marshall Vandruff
Video Series
These lessons are the best I have to offer in response to the virtuoso drawings of the great master, Heinrich Kley.

I hope you like these videos. I'm sure you can learn from them. They take a few side routes, but always in the direction of great drawing.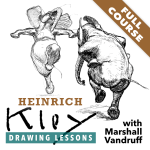 These were live sessions. You can now buy the complete series on Gumroad to stream or download. There's also an option to rent or buy in four separate sessions. You'll find those and more listed on my Gumroad Profile.
---
If you purchased this series prior to May 9, 2023, you can continue to access it below whenever you're logged into your marshallart.com membership.
Begin by watching this free Introduction: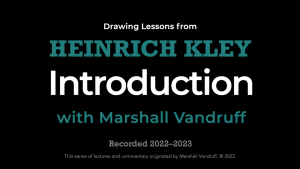 Click the thumbnail to watch the free intro now. If you purchase the series, this is included with the Session 1 download.
We also have this collection of artists, publications, videos, and other resources mentioned in the series.
Session 1: Imagination
If you haven't already watched the Pre-Meeting on YouTube, watch that first (video 1). It was the setup for the live course, introducing Kley's work, available resources, assignments, and exercises for study.
The two main lectures on Imagination spotlight how Kley worked, considering various metaphors to understand process (Process & Flow) and showcasing his ability to imagine characters who appear alive with physical and emotional sensation (Gesture & Empathy). Feedback spotlights the student work that followed. (1.4 GB zip)
Pre-Meeting with Feedback* [53 minutes]
Imagination: Process & Flow [46 minutes]
Imagination: Gesture & Empathy [23 minutes]
Feedback Session: Imagination* [33 minutes]
Session 2: Drafting
These two Drafting Skills lectures display Kley's virtuoso knowledge of humans and animals, anatomy and form. Feedback spotlights the student work that followed. (1.6 GB zip)
Drafting Skills 1 [51 minutes]
Drafting Skills 2 [65 minutes]
Feedback Session: Drafting* [40 minutes]
Session 3: Story
This lecture spotlights Kley's characters and situations, with boiled-down lessons on staging scenes from Don Richardson's teaching on acting and directing. Feedback spotlights the student work that followed. (901 MB zip)
Story: Staging & Scene [61 minutes]
Feedback Session: Story* [30 minutes]
Session 4: Style
This set of lectures begins with a short video explaining how style includes composition as well as technique. If you haven't already seen it on YouTube, watch it first. We then look at Kley's mastery of Pen and Ink, and how simple elements of style such as Line & Tone create combinations unique to specific artists. The final lessons showcase student examples of looking to Kley and other masters to find your own style. (738 MB zip)
Kley's Style: More than Technique* [9 minutes]
Style: Technique: Pen & Ink [52 minutes]
Style: Line & Tone [29 minutes]
*Videos marked with an asterisk (*) are (or will eventually become) available on YouTube, but we are including them in these downloads without commercials.
Note: Feedback sessions were recorded a week after they were assigned, giving students a week to work. (Example: Feedback for the Session 2 assignments was recorded at the beginning of the Session 3 live presentation.) In this series, we present them at the end of the session to which they apply. This way you see results of the assignments built into each session. If you come across confusing references to session numbers, take heart – these are arranged as videos rather than live meetings.