with Marshall Vandruff & Vance Kovacs
Registration opens in December — 
subscribe
to my announcement list to get notified!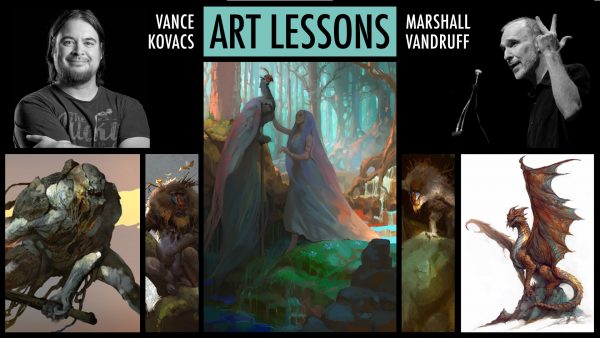 In early 2021, Vance Kovacs and Marshall Vandruff offer five online Art Lessons & Feedback sessions for a small group of select art students. They begin on Tuesday, February 2nd, 7–9 PM (Los Angeles time).
You can register for either of two levels:
Participant Tier ($320). This includes weekly feedback on your work from both Marshall and Vance and requires an audition because this tier is not for beginners.
Over the course of the five weeks, Marshall and Vance:
Assess portfolios
Assign exercises and projects
Critique, advise, and encourage…
We will help you clarify your artistic interests and direction, assess your skills, develop them to professional levels, and guide you toward your career goals.
Observer Tier ($100). This allows you — at any skill level — to attend the sessions, follow along with the projects, and learn while watching feedback on the work of students in the Participant Tier. Each session includes demos by Vance.
Invest two hours each week with Vance and Marshall as they provide their combined expertise to help you toward your best art.