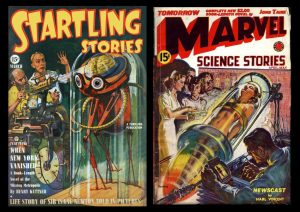 If you are developing imagery for a Science Fiction project, or if you you simply like classic science-fiction and want to try your hand at designing monsters, robots, aliens, fantastic worlds, space ships, ray guns, or special effects, this design course at Fullerton College will give you structure and resources to help you develop your ideas.
The class begins on Feb 4, 2017, and meets on most Saturday afternoons (1 to 6:30 PM) throughout the spring semester. It costs about $160 – less than $3 per hour of class time – and includes a classic SciFi movie every week on our 20-foot screen in BluRay.
I've been working on this class for the past year and am excited about the lectures, movies, and especially the imagery that filled the first half of the twentieth century with wonder and surprise as the genre evolved. As popular as modern science fiction is now, I propose that the old magazines and movies, the retro environments, the low budget and campy (and sometimes amazing) attempts at special effects, and the "vintage look" of classic science fiction is a rich and neglected visual resource for creative people working on production designs.
Also, I'm preparing lectures to help you find what most inspires you for the kind of images you will create at your best – in any genre.
This is a community college course. You get college credit. There is homework, which I have designed to provide deadlines for you to work on your own ideas and projects. The main work is to come up with 60 ideas (about five a week), roughly drawn, and carry six of them to finish with orthos. Also, we will collect and display our favorite images to inspire new and innovative ideas.
The Course Outline is here: ScienceFictionProductionDesign_Public
If you would like to take the course, go to www.fullcoll.edu and look it up. Here is the official info:
Production Design for Entertainment: Early Science Fiction
Class Catalog # DART 197 F
CRN# 24271
If you lack a pre-requisite, I can waive the requirement to give you a shot at this class if you have enough skills to ideate in simple perspective.
Looking forward to this!
Tell me: What is Your Favorite Classic SciFi, and Why?