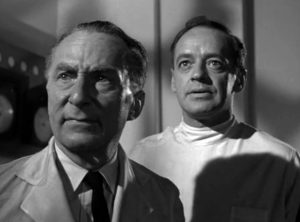 If you are into Pre-1967 Sci-Fi, can you help me? I am collecting resources for an Early Science Fiction Production Design class.
This is mainly about movies as inspiration. What old Sci-Fi (or Sci-Fi-ish) movies do you consider worthy to inspire?
Below is my first-draft list. If it's missing a must-see, tell me, and feel free to add comments, recommendations and warnings…
Metropolis (1927) (148 minutes)
Dracula (1931) (85 minutes) Not science fiction, but distinguishes Fantasy from SciFi.
Frankenstein (1931) (71 minutes)
The Invisible Man (1933) (71 minutes)
Bride of Frankenstein (1935) (75 minutes)
Young Frankenstein (1974) (105 minutes)
The Thing from Another World (1951)  87 minutes
The Man in the White Suit (1951) (85 minutes)
The Day the Earth Stood Still (1951) 91 minutes
Invaders from Mars (1953) 77 minutes
THEM! (1954) (94 minutes)
Godzilla 1954 (96 minutes) and Godzilla 2014 (123 minutes)
Forbidden Planet (1956) (98 minutes)
The Blob (1958) (86 minutes)
The Crawling Eye (1958) (84 minutes)
Plan 9 From Outer Space (1959)
The Day the Earth Caught Fire (1961) (98 minutes)
ZOTZ! (1962) (87 minutes)
La Jetée (1962) (28 minutes)
Last Man on Earth (1964) (86 minutes)
Alphaville (1965) (99 minutes)
Seconds (1966) (100 minutes)
THE TIME MACHINE (1960) sucked, but the few minutes of the special effects were great. Examples with caveats like that are welcomed. This is a production design class, so cool looking stuff is priority, and I appreciate it if you warn us away from full viewings that don't pay off. So little time, and so many movies!